Day of the Dead
Day of the Dead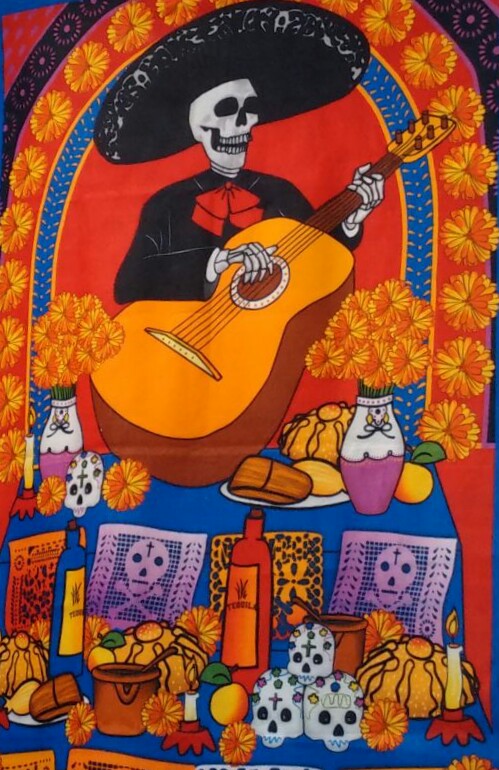 This week, between October 31st – November 2nd Mexico celebrates Day of the Dead aka "El Dia de los Muertos" as a national holiday.
People around the world are posting images of skulls and skeletons (calacas and calaveras), face paintings and hosting Mexican themed parties. However, how much do we really know about this sacred Mexican holiday which is recognised by many as one of the holiest days of the year for so many people around the world , and how can we take part in the ancient ceremonies that date back to the early Mexican-American Indians?
Although these festivities are associated with the dead, this holiday is not portrayed as a morbid or sad time, but rather a time to appreciate the fullness of life, family, food and drink and honour the memories of the departed.
Entire families are brought together on these days and often spend time sitting in cemeteries, decorating the graves of their loved ones, singing, eating and creating new memories. According to Ancient Aztec folklore, the dead awaken on this day in order to celebrate life with loved ones. Death, in this cultural perspective, is seen as a natural part of life and thus not a cause of sadness but rather a reminder to us that we should embrace life and live each day, honouring those that have passed on before us.
In the month leading up to the Day of the Dead, it is common to find stores and markets selling flowers, pottery, masks and  traditional decorations. Offerings (known in Spanish as ofrendas), especially foods and drinks are prepared, which are also considered an important part of the ritual. Many people take the time to bake 'Pan de Muertos', (a sweet eggy style bread) which is left as a gift to the departed on the graves.
Many people often continue to celebrate throughout the year, even after November 2nd. These families will at times build private altars in their homes and gardens adorned with pictures, candles and flowers enhancing the connection between family members past and present.
It can seem like a very colourful fiesta, are certain colours known to be symbolic?
As a student years ago, I traveled to Mexico as part of a wider tour of Central America. I was fortunate enough to see first hand the beautiful festivities and remember very clearly the bursting colour of purple and golden yellow flowers covering shops and gravestones.
It was explained to me that purple is the traditional colour of mourning and pain in Mexico. Yellow flowers specifically the Marigold (Cempazuchitl)  symbolize death and often their petals are scattered around the graves to guide the deceased into the after-life.  White and blue represent the natural elements of sky and earth, purity and faith.
Is El dia de los Muertos only celebrated in Mexico?
Although it originated in Mexico, the traditional celebration has since spread around the world mainly as an expression of Mexican heritage. Over the years the tradition has spread into North America, Central America and Europe predominantly into communities with large Mexican or Latin-American communities. Due to the universal values central to the festivities, many people around the world have since adopted the traditions emphasizing the positive messages of the importance of family and teaching the younger generations that life is a natural part of death.
It's not surprising that these ancient pre-Conquistador traditions have become blended with other traditions and  religions around the world, the most obvious connection being the now secular holiday of Halloween and the more religious practices of Catholic All Saints day and All Souls' day.
No doubt its popularity stems from our fascination with the topic of death and the after-life as well as providing so many with a traditional context in which they can honour and feel connected to those whom they have lost.
Given its Mexican origin, it is hardly surprising that Tequila is a popular offering of respect laid on graves  and used  to toast and remember the departed and the living. We are proud to offer our Tequila Villa Lobos- a celebration of life!
We invite you to try a recipe of one of our favourite Mexican Villa Lobos Tequila cocktails that you might want to mix up in celebration of life and beyond. Salud!
The "Tuco Salamanca"
50 ml Villa Lobos Blanco
15 ml homemade blood orange syrup
30 ml fresh pineapple juice
20 ml fresh lime juice
– Add Sea salt, celery salt and Cayenne pepper mix to the rim of a low ball glass
– Shake and pour the glass on ice & enjoy with a Big Mexican SALUD!
For more information on Villa Lobos Tequila, made by Carlos Camarena follow us on: